Blender 3D Architect Pro with 60% discount for a limited time
For quite some time, we had a premium subscription option here in Blender 3D Architect, which started first as a newsletter and later migrate to include furniture downloads and also training materials.
Today we are proud to announce another change to the subscription model, and we are calling it Blender 3D Architect Pro. As part of the changes, we are moving all the content to Gumroad and already moved active subscribers to the new system. Why did we move to Gumroad?
Their system can provide most of the features we need to offer our subscribers some great content. As a plus, you can also enjoy a mobile app to watch and view all content. That is something we had in mind for quite some time and never accomplished. They have a native app for iOS and Android.
What is our focus with Blender 3D Architect Pro? Our main objective is to provide a constant inflow of training materials and resources. For instance, this week, our current subscribers received a tutorial showing the upcoming Geometry Nodes system with Blender 2.92 Alpha.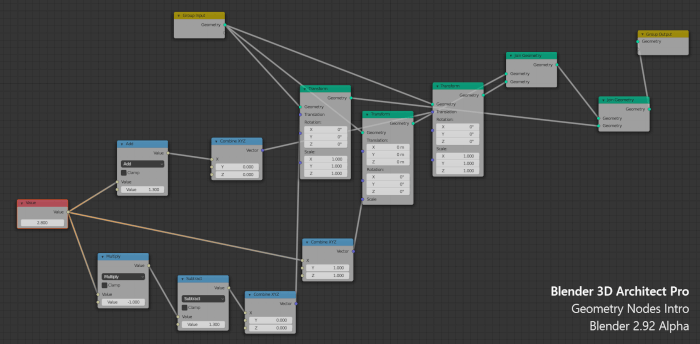 Our schedule for tutorials is to deliver new content:
To promote the release of Blender 3D Architect Pro, we are offering a massive discount for new subscribers for a limited time. If you use code PRO60X, you get a massive 60% discount! By keeping your subscription, the deal will remain active for all upcoming months.
What do you get with your subscription today? Here is a quick summary:
Geometry Nodes Introduction (MP4 tutorial 13:00 minutes) | Download or stream
16 chairs models | Download
23 sofas models | Download
Full kitchen model | Download
After enrolling with a subscription, you can cancel it anytime you want and keep the content received in the Gumroad account. That is a huge plus in comparison with our current system.
I hope you like the content, and if you decide to stay, we have some great material planned for the upcoming weeks.
The PRO60X code works until the end of December!
Are you already a subscriber? Thank you for your support. You can check your inbox to get the links to watch this week's content.