Creating a brick wall using Python
Even with very few articles discussing the use of Python for architectural visualization in Blender, we still think it is an unavailable option to increase productivity and find shortcuts for tedious modeling tasks. Would you like to see a great example of modeling using Python? The user, called Coen from the OSArch forums, posted a great sample code of a script that created a brick-wall using Python.
If you want to try the code yourself, it is just a matter of copy and paste the script in a Text Editor of Blender.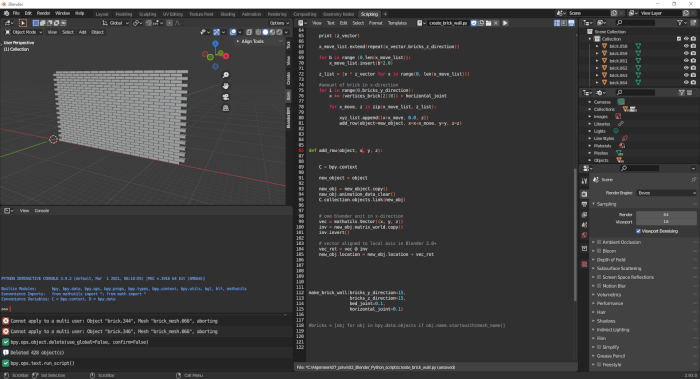 The author even tried to export the brick wall using the BlenderBIM Add-on in IFC format to use that same model in FreeCAD.
Using Blender for architecture
Do you want to use Blender for architecture or render your projects using Cycles or Eevee? We have three books available that could help you!
They cover the use of Blender for producing architectural content and also all information you need to render projects in real-time:
You can get them in both digital and paperback formats. By ordering those books, you will not only improve your skills with Blender for architecture but also support Blender 3D Architect.