Building generator with Geometry Nodes (Free Add-on)
One of the best new features of Blender 2.92 was the inclusion of Geometry Nodes, which gives us the ability to create 3D models using a full-procedural workflow. You can make all kinds of objects and assets to use in multiple projects. Some artists take this procedural generation to the next level with complex setups of nodes that can generate great-looking objects.
An example of that is digital artist Alexey Yakovlev and his Building generator. It uses Geometry Nodes to make post-USSR-style buildings.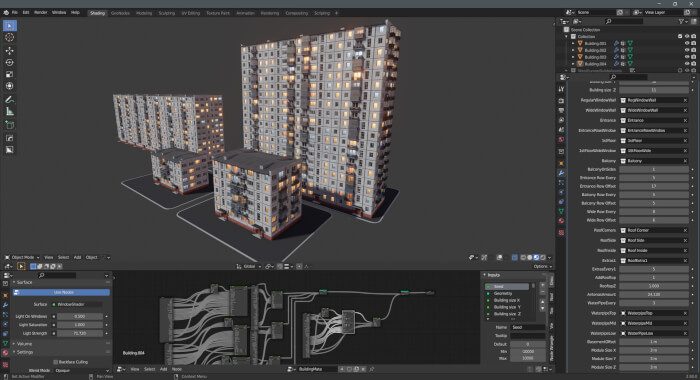 The Add-on is available from Gumroad, and you can download it for free. Since the author uses the fair price model of Gumroad, you can give whatever amount you want before downloading. If you set the value as zero, you trigger a free download.
Why would you want that type of Add-on? That could help us to create background assets to populate a render or compose with an external visualization. Another use case is getting the Nodes from the Add-on as a starting point to learn how to use Geometry Nodes.
Using Blender for architecture
Do you want to use Blender for architecture or render your projects using Cycles or Eevee? We have three books available that could help you!
They cover the use of Blender for producing architectural content and also all information you need to render projects in real-time:
You can get them in both digital and paperback formats. By ordering those books, you will not only improve your skills with Blender for architecture but also support Blender 3D Architect.