Free rooftop assets for architecture
One of the areas of a building that hardly appear on any architectural visualization project is the top. Since most cameras will stay at the ground level, we won't see any details above that line of sight.
But, when you have to create a birds eye render of a building or urban space, inevitably some parts of rooftops will appear.
Do you have any 3d assets with rooftops in your library? If you don't have any, a new resource posted at BlendSwap might become helpful.
An artist called klaimtrev is the author of a collection of 3d models with objects that usually appear on rooftops. Between those objects, you will find machinery and some other useful structures.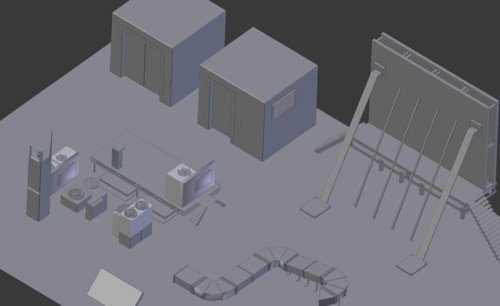 To download this collection, you must register at BlendSwap. They have a free account with a monthly download limit, which is more than enough to get all rooftop assets.
One of the benefits from files from BlendSwap, like this rooftop collection, is that all models came as native Blender files. You just have to Append or Link then to your project. Some will even get Cycles materials.
Unfortunately, that is not the case with this file. It has no materials associated.
What is the license terms of all models? Creative Commons zero, which means public domain! You can use the models with no restrictions.
Learn to model for architecture with Blender
If you are getting started with 3d modeling with Blender, don't forget to take a look at our courses about architectural modeling with Blender: