Free kitchen scene with furniture for Cycles
From all types of scenes that we can possible deal in architectural visualization, one of the most demanding regarding furniture is the kitchen. If you have ever created a kitchen scene, you probably have an excellent idea about the amount of work to populate the space with cabinets, Farber ware, households and more.
Do you want to download a simple kitchen scene with some of that furniture ready to use? An artist by the name of Vladoffsky posted a scene in BlendSwap a few months ago, that might help you on a kitchen project.
The scene is set up to render with Cycles and has 3d furniture objects and textures incorporated. You can either use the project as a reference to learn about lighting or append objects to other projects.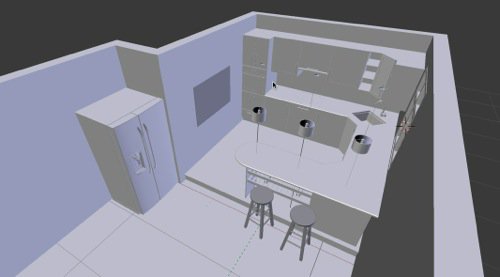 Since it is a creative commons zero, you don't even have to mention the author. But, it would be nice give credits.
Do you want to see something cool about that scene? The author made the space enclosed, so it is perfect to practice your render skills for VR. I took the liberty to render an equirectangular view of the scene: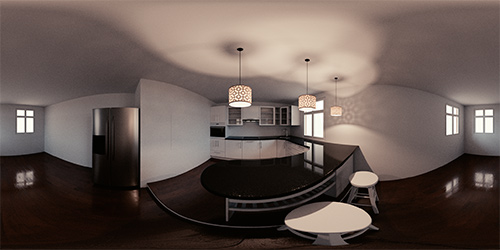 How to use such image? Simple, you can create a WebVR view of the kitchen. Here is an embed 360 view of the scene:
Do you have a smartphone? Of course, you have! Open this article on your smartphone browser and touch the little goggles icon in the lower right corner. You will enter in VR mode and see the "magic" happens.
Use this link for the standalone WebVR view.
For those of you on Android devices, I do recommend Chrome, Firefox or the Samsung Browser. The only limitation is on iOS because Apple doesn't fully support browsers to run in fullscreen.
If you have a VR headset, go ahead and try viewing it using your device. It even works with HTC Vive and Oculus.
Cool, isn't it?
If you want to learn how to create such WebVR views from your projects, take a look on our course about VR architecture with WebVR. You will learn how to build cross-platform VR using the web and also add interaction.