Eiffel Wooden chair: Free download for Cycles
Another great addition to a furniture library based on classic furniture would be the Eames Eiffel chair and their derivations. In this case the much cheaper version Eiffel Wooden chair. The classic design made of plastic and steel costs an average of 350 dollars, but the version made from wood costs something like 70 dollars.
If your architectural visualization project demands a chair like the Eiffel Wooden chair, you can download a model from BlendSwap! An artist called gianmariaveronese just posted a model with materials and textures, all ready for Cycles.
It even comes with a scene for a previsualization render in Blender.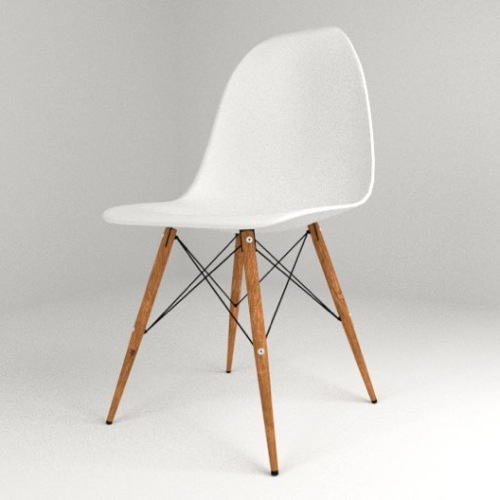 The version that uses wood on the composition doesn't get the name of Charles and Ray Eames, which I believe is the reason for the considerable difference on the price tag of the chair. Just to be clear, I'm talking about buying the real chair! And not the one from BlendSwap. That one is entirely free, and all you have to do to use it is give credit to the artist since the license of the model is CC-BY.
If you want to download 3d models from Eames Eiffel chair, you can get them at the Herman Miller website.