120 free low poly furniture models
For a realistic rendering of a scene you would want to look for furniture models that have a considerable amount of detail, and high-polygon count. That type of model will fit just fine with renderings in Cycles. But, what about the opposite? If you don't have low-poly models in your library, you will have the opportunity to get some of them today! Do you want to download 120 free low poly furniture models?
An artist called Kenny posted in Reddit a small collection of 120 free low poly furniture models, which will work great for projects related to games. But, from an architectural visualization perspective could also help us on a few projects.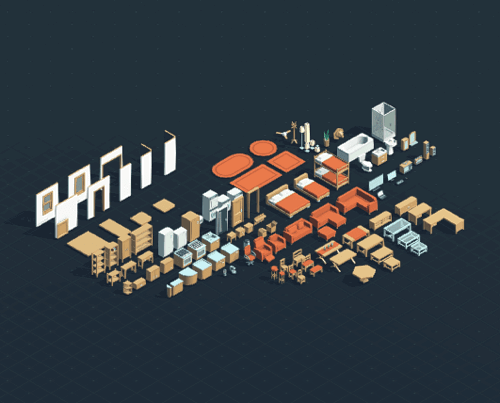 The models have a great variety and also includes some construction parts like doors and some details for walls. It is a great set for anyone needing lightweight furniture models for any purpose.
Why would you want to download low poly furniture models? They won't add much to your next realistic render in Cycles. You can use that type of furniture and asset to create real-time render projects, using simple models that will run great on older hardware. Another possible use of those 120 free low poly furniture models is the reference.
For the cases where you have to start modeling a brand new object that has the same shape of one of those furniture models, you can get one of them as a reference and do a retopology.
License of the 120 free low poly furniture models
What is the license of those models?
According to the description found on the download page, all models there has a Creative Commons Zero license. What does that mean? They are all in public domain! You can use them in commercial projects with no need to give credits to the author.