Workflow to create architectural visualization in Linux
If you use Linux to create architectural visualization or develop architectural projects, how can you define your workflow? I have to say that I don't know much architects or companies that have a workflow for develop architectural visualization or projects, based on Linux machines. Some of that is related to the fact that in colleges and courses, the software's used to create CAD drawings or 3d rendering are mostly based on Windows or Mac machines, and because of that we have a massive number of artists used to work with those softwares. At college I try to always use Ubuntu as a resource to create architectural visualization, working with Blender and other tools.
Are there any architects that have a Linux based workflow? Of course there is! One of the most famous architects among Blender users, Yorik van Havre is a Linux user. If you want to take a look on his description of workflow to create and work with architecture, using only Linux, I suggest you to visit this article, where he talks about his workflow for architecture in linux.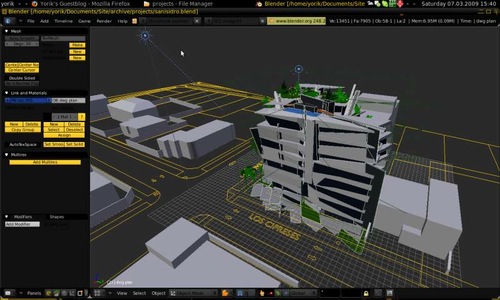 You can even download a sample scene from his work, which is the image that illustrates this article.
One thing that Yorik points out in the article, and it's really something that architects miss a lot on Linux, is the lack of a good and productive software work with technical drawings. There are some CAD softwares for linux, like QCAD and VariCAD, but none of them have the same productivity as AutoCAD, ArchiCAD or DoubleCAD. We can actually create full projects with those software, but the time spend on each project will be longer. I do believe that those softwares will some day be as productive as proprietary tools, but for now, they still won't beat the productivity and speed of those softwares.
I'm not even talking about technologies like BIM (Building Intelligent Modeling), but only traditional technical drawing.
The good news is that CAD would be the only area, where architects will find difficulties to adapt. For visualization projects, we have a great set of tools like Blender 3D, GIMP and Inkscape. If you visit Yorik's article you will find how those softwares will fit in his workflow and produce great images and presentation sheets for projects.