Blender 3D for architectural visualization
How to produce architectural visualization with Blender 3D? And before anything, what is Blender? Well, Blender is the free open source 3d content creation suite. It has a huge user community, but most of them use Blender only to create character animations, or animations not related to architecture. Since I am an architect and have been used Blender 3D, as my main 3d content creation for the past years, I thought it was time to help other artists to use Blender as a tool to create architectural visualization.
With that in mind, I wrote a book on the subject, which will be released next month by Pack. This book has everything you need to know about Blender, and how to apply that to architectural visualization. I talk about the basics, modeling, modeling for architecture, importing CAD files, materials, lights and everything else that is related to the task.
The book is great! And I`m really proud of it, but to keep showing my experiments and to show how Blender can be used for architectural visualization, I decided it was time to start a web site as well! So, here I am writing the first article. You can expect to find out here tutorials and articles, about the upcoming features of Blender and how these features can influence artists that want to work with architectural visualization.
Just to show what Blender can do, here is one of the examples of the Book: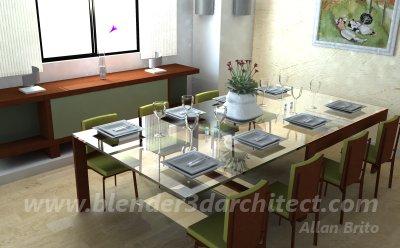 Blender is a great tool, but it doesn`t work alone. There are a few extra tools, which can help a lot in the process like CAD software, Image editing software, Ray tracing render and a lot more. Here is a list of some other tools that will be covered here:
Well, I hope you find the information published here useful, and feel free to send me a message or comment, about the book or any tutorial posted here.