Creating cutout images with GIMP and Blender [B3DA Pro]
Here in Blender 3D Architect, I often recommend downloading cutout textures with lots of different collections. You can use those textures to add people, vegetation, and even furniture to your renders. One aspect of those textures that I never explained is the creation of cutout textures.
For Blender 3D Architect Pro subscribers, I recently shared a tutorial describing how to create and use cutout textures with GIMP and Blender. You can use GIMP to extract content from an image and import that to Blender as a cutout.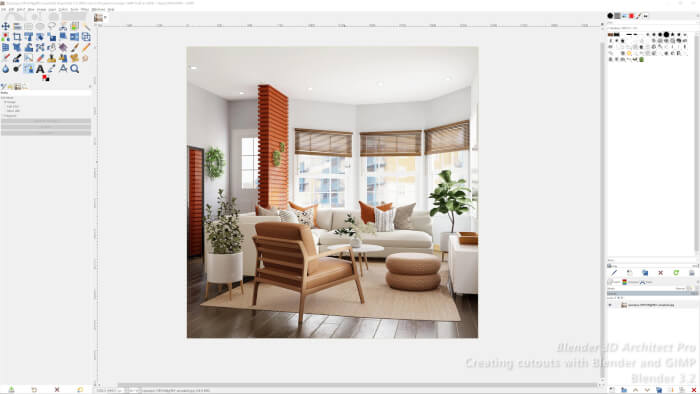 The tutorial covers paths in GIMP and how we can use them to create almost any shape and turn them into a selection. Once you select the part of an image, we can use GIMP tools to create a separate image and save it as a PNG file.
With a PNG file, you can use Blender to import the texture with Add-ons like Images as Planes and include that to any project.
Here is a list of topics covered in this tutorial:
How to select parts of images in GIMP
Turn paths to selections
Copy and create new images from selections
Export images as PNG files
Enable and use Add-ons in Blender
Import cutouts to use in Blender
What do you get with this tutorial? Here are all the available resources:
Video tutorial (MP4 in 4K resolution)
All source files to follow each step
PDF file with shortcuts and most important steps
How to download and watch the tutorial?
If you are a Blender 3D Architect Pro subscriber, you can check your inbox to find all download links or visit the resource folder for this month on Gumroad. Use your credentials to log in, and in the resources area, you have a folder for this month's resources and tutorials.
Do you want to join Blender 3D Architect Pro and have access to tutorials and resources to use open-source tools in architecture and design? Use this link to get 25% OFF and subscribe today!
Besides those tutorials, all members receive a free workshop every month.
Blender 3D Architect Pro benefits
All Blender 3D Architect Pro subscribers receive new content every week. Here is our current schedule:
Two tutorials each week (Video and resource files)
One asset in Blender native file format (Usually a furniture model)
One workshop every month (Various subjects)