Linked libraries managing and Bézier curve editing: Blender 3D Architect Pro reports
We often post resources and tips here in Blender 3D Architect, focusing on architectural visualization using Blender, our primary objective. Our objective and mission show how you can use open-source tools like Blender in your work. To expand the content published on the site, we started Blender 3D Architect Pro by the end of 2020.
What is Blender 3D Architect Pro? It is a subscription-based section of our site where we post weekly tutorials and resources. Today, we send two tutorials that subscribers and either download or stream. All tutorials aim to expand our content and are always related to architectural visualization and Blender.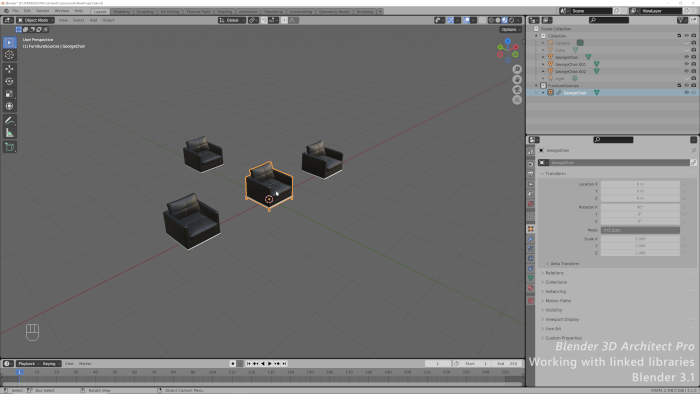 Last week, we posted two tutorials and another asset:
Linked libraries managing: Do you know how to manage and work with linked libraries in Blender? In this tutorial, I give valuable tips on working with external assets linked to a scene. (MP4 + PDF + assets)
Downloadable asset: George chair: A chair model with all materials and data ready for the Asset Browser (blend file)
Bézier editing tools: In some projects, we must use curves to create 3D models, and architectural designs are no exception. To help us work with Curve based modeling, we can use a powerful and free Add-on called Bézier editing tools. Learn how to use this Add-on in this tutorial. (MP4 + PDF + assets)
If you are a subscriber, check your inbox to download or stream the content. The download links don't expire and will continue to be valid, even if you cancel the subscription.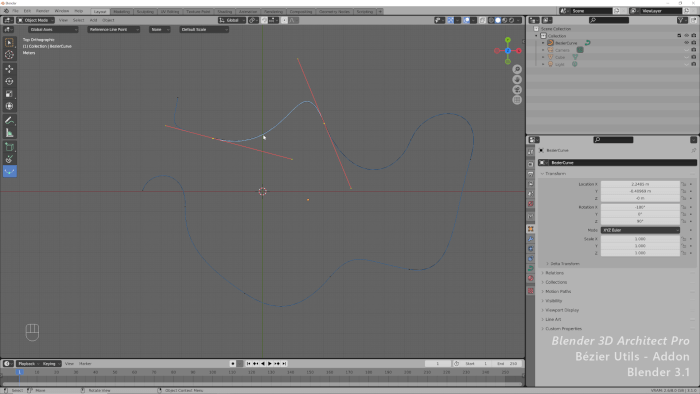 The feedback from our subscribers has been fantastic, and if you are a Blender 3D Architect Pro subscriber, thank you!
Do you want to become a subscriber? We currently offer a 15% discount for new subscribers, and you can grab it here. The content is available from Gumroad, and you have several benefits:
Cancel the subscription at any time
Download or stream the content
Available on both Desktop and Gumroad mobile App (iOS and Android)
120+ tutorials and source files (updates twice a week)
You keep access to the content received during the period of your subscription
1 free workshop or course at the end of each month (New)
A new benefit introduced recently to all subscribers is the availability of a free workshop or course from Blender 3D Architect each month. As long as you have an active subscription by the end of each month, you will receive an access code to have a 100% discount.
Thanks again to all our subscribers that are supporting our work.