Drawing a floor plan in Blender
For most artists Blender is a blessing in the 3d field and allows us to create not only good 3d models but has a powerful and evolving renderer. With Blender Cycles, architectural visualization artists can create some beautiful images for their projects. But, it is not only in the field of visualization that Blender can help us. There is also some tools and resources that could aid in technical documentation, using NPR techniques. Have you ever imagine yourself drawing a floor plan in Blender?
If you never imagine yourself doing that, let me say that it is not only possible, but all students enrolled in the course about architectural documentation with Blender and Freestyle are learning to do that now. It is a feature of Blender that sometimes we know that exists but never get the chance actually to use.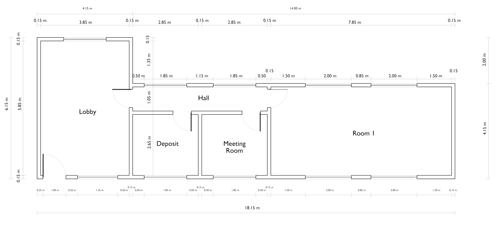 FreeStyle is a powerful renderer integrated to Blender that can handle lines well, and if we set up the properties and architectural elements in a certain way, almost all technical drawings can emerge from Blender, and not only 3d drawings.
And since Blender is a full featured animation software, architectural visualization artists can even present their technical documents using animation and composition techniques. For a digital world where most projects are born and shown on a screen, Blender can handle this stage of the process entirely.
Enroll on the course today and start drawing a floor plan in Blender right now.
Just as a reminder, all students from the courses of Blender 3D Architect has:
Access to exclusive content
Lifetime updates in each course
Special access to a render farm